Treasure: 1,301
Items: (View All Items)
0 years old lbs 15.2hh Mare (Lvl 4) None 100% Energy No wings Played by Camy
To celebrate the holidays offline, I figured "let's do a raffle!"  
Rules
Simply post here with your OOC account with your favorite gif from whichever holiday movie and why in a few short sentences. 

There will be three winners chosen.

Winners may choose which prize to get.  First place chooses first, second next, and third is last. 

Once a prize is chosen, it can't be chosen again.

All participants will get 100 treasure each for posting their entry correctly.

How This Will Work
All participants that follow these rules will be thrown into the
giveaways random.org generator
and the result will be linked with a special code to showcase the results.
Prizes
Here are all the prizes the winners can choose from.
Royal rank [super rare]

- From the Isles or the Empire, no other place has royalty, you CAN have their home base elsewhere until that area is unlocked.  You may choose also to be related to either the King or the Empress or any line for that matter.  It must be looked at and approved by me however to be sure it aligns with the lore. 

This item CANNOT be gifted.

 



Faerie Blessing [super rare] - 

A blessing of your choice by an elemental faerie that we have.  

This item CANNOT be gifted.





Secondary Magic [rare] -

Any choice of magic can be applied to only one character of your choosing.  It will start out at Level 1.



Iron and Gold Armor

 

[uncommon]

- For some serious defense that

will allow your character to take impact/attack 2 times without any damage.

 The iron does all the work while the gold makes it pretty since gold is soft.



Second/Third Companion [uncommon] -

For those who want another companion depending if they have two or not already.  Must be claimed in the Maintenance area.



Exclusive Pixel [mega ultra rare] 

- Made by yours truly, this will be winter/holiday themed catered to the winner's choice.   

This prize CANNOT be gifted.





500 Treasure [uncommon]

 - There be gold here!  While the shop may be barren for now, this will give a nice boost.



Free Business Building

 

[common]

 - Your character may open any business they so wish so long as they follow the lore.  This must be looked over and approved by me first.  

Treasure: 9,375
23 years old lbs 8.0hh Mare (Lvl 1) None % Energy No wings Played by Fallen
My favorite holiday movie, and subsequent gif, are from Rudolph the Red Nosed Reindeer, the claymation version. I have loved this movie for as long as I can remember, and something about the sheer amount of work that must have gone into it to make it just right, makes it my all time favorite. This gif in particular is my favorite because it shows Rudolph and Hermey, both of whom have a special place in my heart, AND I love the aesthetic with his cute lil nose glowing.
EDIT ;;
Edited my reply because I cannot human and had the wrong link/code in there to show the gif. x.x
Treasure: 510
years old lbs 8.0hh Undisclosed (None) None % Energy No wings Played by Olive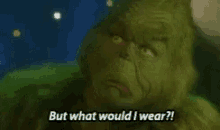 I think The Grinch is a great holiday movie because it is hilarious and has a sweet message behind it. I quote this particular scene quite a bit, and it makes me laugh every single time. Jim Carey did a fabulous job, and I probably always will watch this movie around Christmas time.
Users browsing this thread: 1 Guest(s)